Kingsford Charcoal
The Goal
Kingsford wanted to deliver a weather targeted marketing campaign coinciding with the arrival of spring. Specifically, their goals were to drive brand awareness and purchase consideration by leveraging the pleasant emotions that longer days and warmer weather can bring.
The Challenge
Grilling, like many outdoor activities, is highly weather sensitive, especially during the transitional seasons. But the weather conditions that drive people to grill vary considerably throughout the country. Kingsford sought to optimize their campaign through highly granular weather analytics and targeting.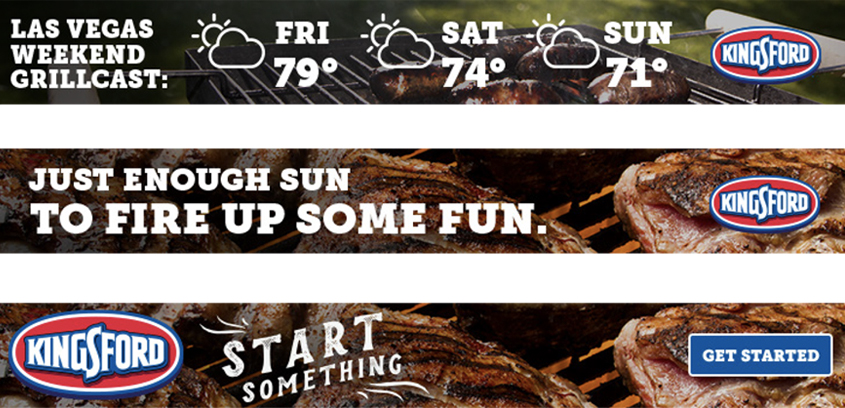 The Solution
Kingsford and their agency, AKQA, collaborated with WeatherAlpha to uncover the impact of weather on their business and incorporate the findings into a localized weather targeted campaign. Initially, WeatherAlpha conducted a Weather Impact Assessment, aligning three years of Kingsford data against historical weather conditions for 65 DMAs.
This enabled the creation of custom triggers at the zip code level which Kingsford incorporated into their display, mobile, and CRM campaigns.
The Results
Through data-enriched creatives that incorporated up to 12 weather variables, Kingsford served a message to their consumers that was prescriptive, pertinent, and ultimately, highly effective.
A corresponding comScore study showed significant increases in both awareness and purchase intent for Kingsford Charcoal.