As we enter this holiday season, the WeatherAlpha team would like to share some exciting news with you. In this e-newsletter, we will be discussing the following:
Onboarding partnership with LiveRamp
Extreme Weather
New mapping capabilities
Wishing you all a safe and happy holiday season.
— The WeatherAlpha Team
---
Weather, Health, and Pollen Segments Available Across Multiple Channels
Weatheralpha is Now a LiveRamp Integrated Partner
LiveRamp is the leading data connectivity platform for the safe and effective use of data. LiveRamp's fully interoperable and neutral infrastructure delivers end-to-end addressability for the world's top brands, agencies, and publishers. Their identity resolution service, LiveRamp's Identifier, enables people-based marketing initiatives across all digital channels.
WeatherAlpha is a leading provider of premium weather,
health, and pollen data in the digital advertising space. WeatherAlpha also leverages data science to refine campaign execution and help brands understand the impact of weather/ health on their businesses. Leading brands and agencies source their weather, health, cold/flu, and pollen data sets from WeatherAlpha.
WeatherAlpha is a certified LiveRamp Integrated partner
WeatherAlpha has over 300 weather and health conditions available in LiveRamp's Data Marketplace.
WeatherAlpha data is available through LiveRamp's Data Marketplace or through our new Onboarding partnership.
Custom and international conditions are available upon request.
"Our partnership with LiveRamp has enabled us to connect with brands and agencies in ways we never could before. Furthermore, the flexibility of the platform lets us quickly create custom weather conditions that meet the robust specifications of our analytically savvy customers."

– Daniel Alexander, Founder and Chief Meteorologist at WeatherAlpha
Please visit us directly at:
https://liveramp.com/partners/weatheralpha-llc/
---
Extreme Weather
Target Extreme Weather / Storm Warnings / Hazardous Weather conditions in a timely matter that is most relevant to your brand and consumer. Weather conditions are updated as frequently as every 5 minutes.  Applying forecast time frames will give your consumers more time to react and stretch the duration of the campaign. Tie in your creative messaging to align with selected conditions for enhanced impact and call to action. These extreme weather conditions include:
Winter Storms
Flooding Rain
Severe Thunderstorms
Tornadoes
Hurricanes
Extreme Temperatures
Damaging Winds
Hail
Crippling Snow
Hazardous Air Quality
Applicable Verticals:
Insurance
CPG
Pharma
Health Care
Automotive
Apparel
Home Improvement
---
New Mapping Capabilities
Several areas in the Midwest are now experiencing Medium Levels of Cold/Cough conditions – it is a perfect time to activate your campaign before we hit the peak of the condition. Please contact us to learn more about our weather/health conditions and mapping capabilities.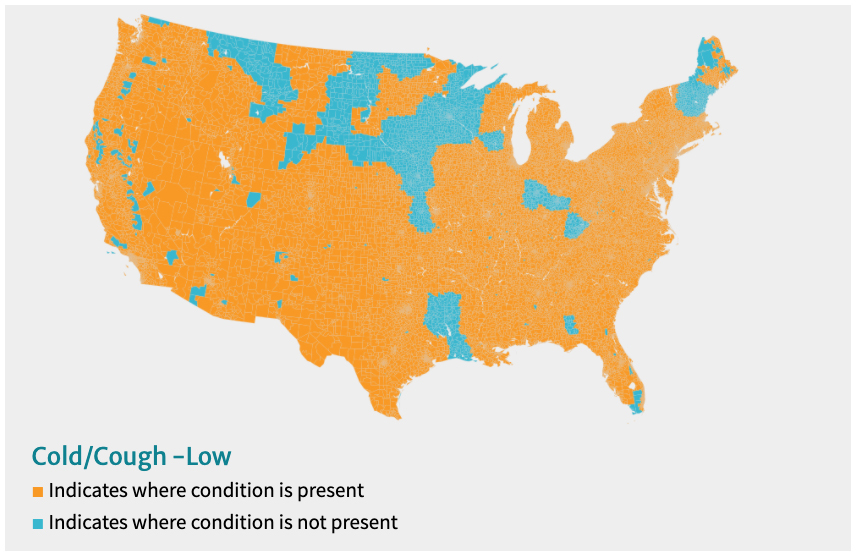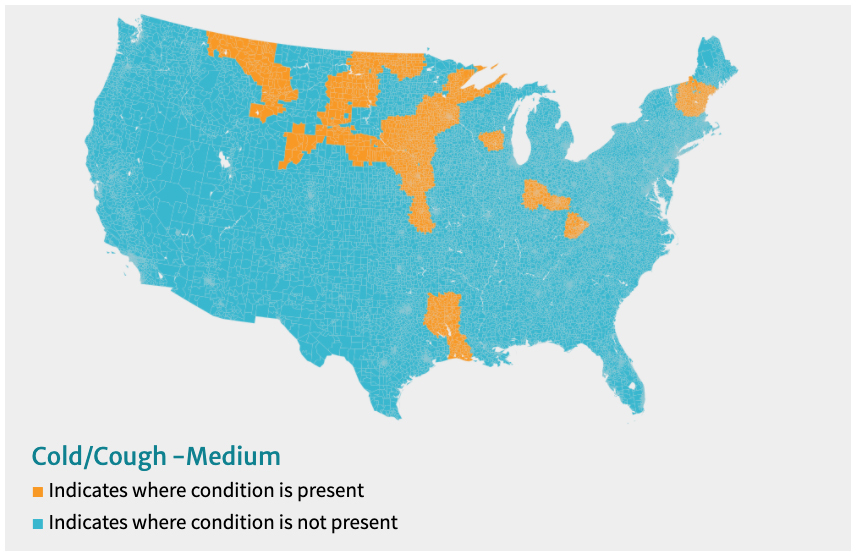 Interested in a complimentary map? Email us at hello@weatheralpha.com and specify the condition.